Fishing Reports posted in the last 14 days.
---
Skiligal Sportfishing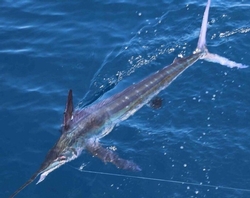 Posted: 7/27/14

Weekend update. VBMT
We went up wed afternoon to fish the Virginia Beach Marlin Tournament. 2 out of 3 day format. Thurs-sat. Thanks to our faithful crew Randy Missy Dave Scott Carlos and Scott.
We were in the hunt after day 1 with 4 releases.
Day 2 we had enough bites to win but just didn't have the luck. We released 2 out of 5 and finished 4th. … Read More



Go To Skiligal Fishing Report Page
---
Custom Sound Charters

Posted: 7/23/14

July 22 "Bluewater Combo" report
Off today with the Youshock crew.Caught a few dolpin trolling out and in from the bottomfishing spots.Caught Triggerfish & Seabass while bottomfishing.
Thanks Guys…


Go To Custom Sound Charters Fishing Report Page
---
Cape Lookout Charters

Posted: 7/22/14

Morehead City Atlantic Beach NC Fishing Report
Get off the couch and go fishing. Fishing has been very good….


Go To Cape Lookout Charters Fishing Report Page
---
Poacher Sportfishing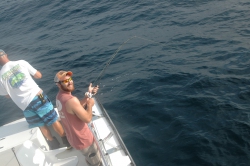 Posted: 7/22/14

7/21 All-Day Large Amberjacks-Sea Bass-Spanish Mackerel
went live-baiting for amberjacks and there was a really nice class of fish there. every drop we hooked up on fish from 30lb-45lbs. Left there and hit some wrecks catching some keeper sea bass for a change,also had a large flounder. then hit the beach in the afternoon and caught some spanish mackerel while trolling home. A red drum school had been r… Read More

Go To Poacher Sportfishing Fishing Report Page
---