Fishing Reports posted in the last 14 days.
---
Skiligal Sportfishing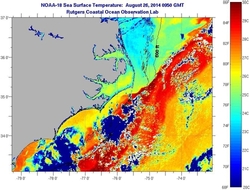 Posted: 8/26/14

Update. VBBT. Ready to roll
Our group for the VBBT was lots of fun as always !! A big thanks to Randy Missy Carlos Scott joe and Scott.
We started the first day with some action but could not hold on to the bites. At the end of the day we were 3 for 8.
Second day we went to the deep looking for a big blue one (500 lbs ) or bigger. We hooked a couple of blues and … Read More



Go To Skiligal Fishing Report Page
---
Custom Sound Charters

Posted: 8/22/14

Good Bye Cameron…It was a GREAT summer 8/21
Well today was my mate Cameron Whitaker's last day.He's on his way back to college at ECU.
It was a pleasure having him aboard this summer and he did a great job.Hope he comes back next year for more fun and games aboard the "FREE AGENT"…..Good luck with school Cam.
…


Go To Custom Sound Charters Fishing Report Page
---
Poacher Sportfishing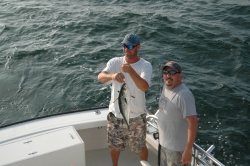 Posted: 8/22/14

8/21AM Huge Areas Of Albacores-Big Spanish!
Boats were working on schools of 7lb-12lb false albacores from the inlet down 5 miles,just about any where you wanted to troll. Bait all along the bottom,really fishy. Mixed in with the alberts was some large spanish mackerel,we had about 20 of them for the morning. Great action never went more than 10 minutes all morning without a bite.
Good … Read More

Go To Poacher Sportfishing Fishing Report Page
---
Marauder Sportfishing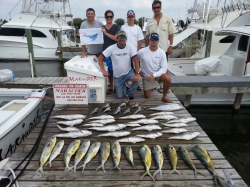 Posted: 8/21/14

8-21 all day trip
Headed offshore for some deep water bottom fishing/ trolling today.
Beautiful weather and calm ocean.
We ended up with a mixed bag, a Black fin tuna, released a Sail fish, a limit of tile fish and a few nice sea bass along with a dozen dolphin.
Fall fishing should be great the way things are shaping up….



Go To Marauder Fishing Report Page
---
Cape Lookout Charters

Posted: 8/18/14

Morehead Ctiy Atlantic beach, NC Fishing Report
Plenty of Bluefish and ladyfish in the inlets. The blacktips, spinner sharks are feeding on the blues and ladyfish so it makes it interesting landing fish. Good drum and trout fishing in the clearer water. Spanish macs. and small king macs. outside the inlet and on the nearshore reefs. Live mullets have been taking some nice Spanish.
Go fishi…


Go To Cape Lookout Charters Fishing Report Page
---