Fishing Reports posted in the last 14 days.
---
Skiligal Sportfishing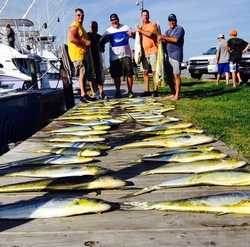 Posted: 9/1/14

Sunday and Monday
Yesterday Jason and I fished with our friend Mark Brown. His friend Mike released his first white Mark battled a blue marlin on light tackle for a good while. We all were patient and Mark finally was rewarded with a 10 to 1 release on a 300 pounder on 25 pound line !!
Some mahi for the table also joined us for the ride home !!
This pic… Read More



Go To Skiligal Fishing Report Page
---
Custom Sound Charters

Posted: 8/28/14

August 23,24,25 & 26 report
August23,24,25…NO TRIPS
August 26 morning trip…I canceled because of hurricane swells
August 26 was a afternoon "Inlet Adventure" trip with the Wade family.Trolling for the nice sized Bluefish was good.
Thanks Guys…


Go To Custom Sound Charters Fishing Report Page
---
Poacher Sportfishing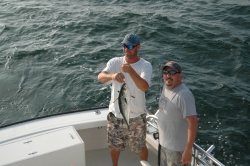 Posted: 8/22/14

8/21AM Huge Areas Of Albacores-Big Spanish!
Boats were working on schools of 7lb-12lb false albacores from the inlet down 5 miles,just about any where you wanted to troll. Bait all along the bottom,really fishy. Mixed in with the alberts was some large spanish mackerel,we had about 20 of them for the morning. Great action never went more than 10 minutes all morning without a bite.
Good … Read More

Go To Poacher Sportfishing Fishing Report Page
---
Marauder Sportfishing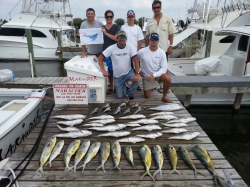 Posted: 8/21/14

8-21 all day trip
Headed offshore for some deep water bottom fishing/ trolling today.
Beautiful weather and calm ocean.
We ended up with a mixed bag, a Black fin tuna, released a Sail fish, a limit of tile fish and a few nice sea bass along with a dozen dolphin.
Fall fishing should be great the way things are shaping up….



Go To Marauder Fishing Report Page
---