Fishing Reports posted in the last 14 days.
---
Custom Sound Charters

Posted: 7/23/14

July 22 "Bluewater Combo" report
Off today with the Youshock crew.Caught a few dolpin trolling out and in from the bottomfishing spots.Caught Triggerfish & Seabass while bottomfishing.
Thanks Guys…


Go To Custom Sound Charters Fishing Report Page
---
Skiligal Sportfishing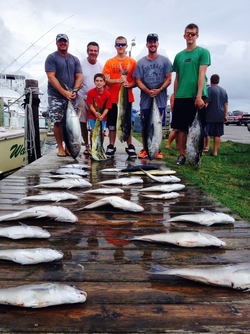 Posted: 7/22/14

7/22
Today OIFC put together a fun group for us to go offshore. We looked around east of the inlet but no dice. We fished down the road and found a school of tuna. They were tricky. We managed to catch 3. Later we made a couple of drops for tiles. Then we caught a few dolphin and lost 3 white marlin. Oh well. We all enjoyed the pretty… Read More



Go To Skiligal Fishing Report Page
---
Cape Lookout Charters

Posted: 7/22/14

Morehead City Atlantic Beach NC Fishing Report
Get off the couch and go fishing. Fishing has been very good….


Go To Cape Lookout Charters Fishing Report Page
---
Poacher Sportfishing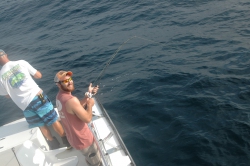 Posted: 7/22/14

7/21 All-Day Large Amberjacks-Sea Bass-Spanish Mackerel
went live-baiting for amberjacks and there was a really nice class of fish there. every drop we hooked up on fish from 30lb-45lbs. Left there and hit some wrecks catching some keeper sea bass for a change,also had a large flounder. then hit the beach in the afternoon and caught some spanish mackerel while trolling home. A red drum school had been r… Read More

Go To Poacher Sportfishing Fishing Report Page
---
Marauder Sportfishing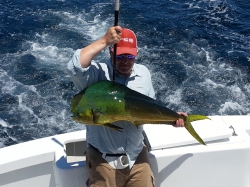 Posted: 7/12/14

Near shore report before and after hurricane Arthur
Good half day fishing for Blues and Spanish along the beaches with schools of Red Drum showing up most days.
All day trips have been very productive while live bait fishing and jigging artificial lures around wrecks and other structures for big Amberjack and the occasional Dolphin while trolling.
A few cobia around but we look for that to pick up… Read More



Go To Marauder Fishing Report Page
---