Ready for Striper season ! - Troy Crane - 12/08/13

The "Marauder" is on the scene in Va.Beach for the winter Striper season and we are ready to fish. Dates are available throughout the season, weekends are just about all booked. Check out the availability/booking calendar on the website for up to date availability. Looking forward to seeing everyone again this winter ! Merry Christmas to all !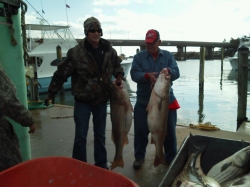 * click on image for larger view

Annual trip out west - Troy Crane - 10/26/13

We ventured out west for our annual waterfowl hunt last week. Great hunting with my son and some good friends !

We are finishing up our Fall season here at home and getting ready to go into the boat yard for some routine maintenance and then up to Va.Beach for the winter Striper season. Our first trip is the 14th of December and I am taking reservations, get your trip reserved now.



Good Fall fishing - Troy Crane - 10/12/13

Our anglers are enjoying some great action on our half day trips around the inlet. Plenty of Trout, Sea mullet and Flounder being caught along with some Blues and Puppy Drum. Its a good time to go fishing.



Late summer fishing - Troy Crane - 09/14/13

September and October have always been a great time to fish on the obx and this year is no exception. We've had a great week of fishing on our half, three quarter and all day trips. Inshore, there has been a good run of Blues and Spanish along with some Cobia and False Albecore.The nearshore wrecks are holding Trigger fish and other bottom fish. Off the beach, the big Amberjack have shown up on the area wrecks as well as some nice Dolphin, an occasional Wahoo and Sail fish while trolling and we had some nice size Tile fish while deep drop fishing the other day. The White Marlin bite offshore is incredible once again this year with record catches being made. Come on down and do some fishing, the weather is great and the fishing is even better.



8-23 report This weeks fishing. - Troy Crane - 08/23/13

We fished 4 all day trips and a couple of half day trips this week. The all days consisted of live bait fishing for Amberjacks and trolling for dolphin which were very successful. The nearshore half days have seen a nice return of good size tailor blue fish and spanish mackerel fishing. The summer may be winding down but that's when the fishing starts to heat up here on the OBX. Get a group together and lets go fishing. Thanks for checking in, Troy



8-11 The past weeks fishing - Troy Crane - 08/11/13

The past week we did a little bit of everything, live bait fishing for Amberjacks on the wrecks and trolling for Dolphin. Wreck fishing for sea bass and trigger fish and a little chumming for sharks, which was about the best I have ever seen. Come on down, bring the kids and go fishing.



Great Spanish Mackerel fishing - Troy Crane - 08/01/13

Our morning trips have been producing some of the years best Spanish fishing right outside the inlet. The afternoon trips have been slower with a few schools of Red Drum showing up along with a scattered Cobia catch.

Lets go fishing !



The past weeks fishing - Troy Crane - 07/21/13

The half day trips produced excellent catches of Spanish and the full day trips were very productive as well with plenty of action on the Amberjacks, Dolphin, Kings, Wahoo and a Sail fish release on one of the trips.

Lets go fishing !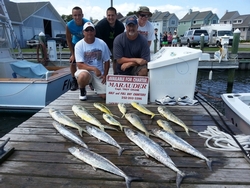 * click on image for larger view

Flounder fishing - Troy Crane - 07/14/13

Our summer Flounder fishing has been very productive so far this season. On this recent outing we had several keepers.

Good luck !
* click on image for larger view



RE: Flounder fishing - Poacher - 07/21/13


A little bit of everything - Troy Crane - 06/24/13

"Our catches for the past week covered all the bases. A strong north east wind chased us out of the ocean toward the end of the week but not after having some of the best Spanish fishing of the summer and during the blow we caught plenty of trout, sea mullet, flounder and croaker to name a few, while enjoying the calm sound side waters. The weekend brought some pretty weather and we made another good run on the Spanish Saturday morning and finished off the weekend on Sunday fishing with my son, his wife and a group of friends from Greenville catching plenty of big Amberjack and a few nice dolphin to round off the catch. Summer fishing is in full swing and the July calendar is just about filled in. Book early if you can to guarantee your fishing adventure. Troy"



Good fishing continues - Troy Crane - 06/15/13

"Fishing along the beach this week has yielded some nice catches of large Spanish Mackerel, plenty of Blues, false Albecore and another good run on the Cobia. Warm water has held tight to the beach on the south side of the inlet despite a couple of hard south west blows. Looks like our summer fishing pattern has settled into place nicely. We have a few days left open in June and July is close to being filled up. Book your date ahead of time to guarantee availability. Thanks for checking in, Troy"



Half day trips - Troy Crane - 06/07/13

"The Cobia fishing has been outstanding for everyone and now we are settling into our Summer schedule. The Spanish Mackerel fishing on the half day trips is starting to get going along with our ever present tailor Blue fish. Still seeing plenty of Cobia around the inlet and along the beaches as well. Our ocean conditions have really come together in the past week with warm water full of fish settling in along the beach. Based on what is already here, we are anticipating a great summer. Wreck fishing on the all day trips are still producing good catches of Sea bass and other bottom dwellers as well as the first sign of Amberjacks. The calendar is filling in daily for the summer fishing schedule. If you're coming down for vacation, book your trip in advance to guarantee your trip. See ya on the water, Troy"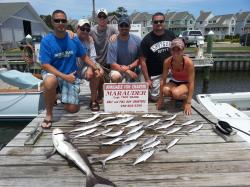 * click on image for larger view

May 31 A full box ! - Troy Crane - 06/01/13

"What a way to end a month ! We welcomed friend Bob Hester and a crew of local anglers aboard this morning and headed out to see what the day would offer. The first request was to try for a few Sea bass so we headed out to a couple of wrecks where we found them waiting and hungry. After catching enough for the crew we headed back inshore to try our luck with the Cobia fishing that has been so good the past few days. It wasn't long after we got closer to the beach that we started seeing fish and then, it was game on. We ended the day with about 40 nice Sea bass with 3 meeting the states minimum requirement for a weight recognition citation of 5, 5.5 and 6.5 pounds. One 12 pound Tau tog (black fish) the largest I personally have ever seen. 10 Cobia, with three of them meeting the weight requirement for the sates citation program weighing in at 50, 55 and 70 pounds. The remaining 7 cobia weighing between 20 to 35 pounds. A day full of citation weighing fish and a great group of anglers. Thanks for fishing with us guys we enjoyed having you. The fish are here as you can see and the calendar is filling in fast for the summer season, book your trip in advance to guarantee your spot. Thanks for checking in, Troy"





RE: May 31 A full box ! - Rick Lawrenson - 06/01/13



RE: May 31 A full box ! - Bob Hester - 06/01/13



RE: May 31 A full box ! - Tuggy - 06/03/13



RE: RE: May 31 A full box ! - The MADD Hatter - 06/04/13



RE: RE: May 31 A full box ! - Troy - 06/09/13


5-27 Jumbo Seabass - Troy Crane - 05/27/13

"We had a great afternoon of Seabasa fishing with Josh and his family. Three citations in the catch as well, two over four pounds and one over six ! Doesn't get any better. A good showing of Cobia close to the inlet today as well. Summer dates are filling up fast, book ahead to gurantee your trip."





RE: 5-27 Jumbo Seabass - Josh - 05/28/13


May 20 All day trip/ Sea Bass - Troy Crane - 05/20/13

Stan and Conrad returned to fish with us agsin this year and it was just in time. We had a nice limit of Bass this morning in the two to 31/2 lb range with one making the state minimum for a citation weighing in at a little over 4 lbs. Thanks guys it was great to see you again. See ya next year.



May 17 The start of anorher season - Troy Crane - 05/17/13

"We started off our summer season today with a couple of half day trips. Blues and Spanish were on the menu and I for one was happy to seee them. Things are shaping up nicely with plenty of bait as well as all of the signs that the season is getting ready to take off. Dates are booking up daily, call ahead to reserve your trip."