Weekend fishing - Troy Crane - 06/12/17

We spent two days dolphin fishing with my friend Dave and his guests. We couldn't have ask for better conditions or fishing. Sometimes it all works out but you have to put your time in and Dave sure has.



More Spanish and Cobia ! - Troy Crane - 05/30/17

Another great day with Vic Bonin and crew, the overcast sky's and windy conditions made it tuff Cobia fishing but we managed a nice one along with plenty of Spanish and Blues.



Spanish Blues and Cobia - Troy Crane - 05/30/17

We had the Allen family with us on Monday and enjoyed some great Spanish Mackerel fishing and Ruther was fortunate to catch his first Cobia ! Thanks folks, enjoyed the trip.



Mackerel and Cobia - Troy Crane - 05/29/17

Good Spanish fishing continued today along with a bonus Cobia for Ruther and his family. Thanks you folks !



Salty day - Troy Crane - 05/27/17

Off on a really windy and salty day with the Demas crew from from Charleston on Friday in search of some Cobia. We were all going down in flames until some fish made a showing late in the day, we fortunate and scraped out a couple for Bill and Andrew. Thanks folks !



Afternoon half day - Troy Crane - 05/24/17

We ran a half day afternoon trip with Len and John today and caught a nice mess of Spanish Mackerel. The guys are taking their catch up to the Pier house restaurant at the Nags head fishing pier to have them cooked for dinner. Thanks guys, enjoy dinner !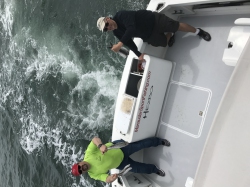 * click on image for larger view

A little love for the old girl - Troy Crane - 05/23/17

We spent about a week and a half in the boat yard at Wanchese Dock and Haul just after Easter putting some shine back on the old girl. We're back at the Marina and ready for the summer season.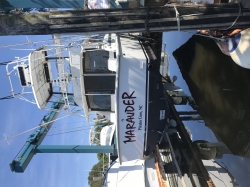 * click on image for larger view

Afternoon half day of Striper fishing. - Troy Crane - 11/22/15

Fun trip with these folks from Va. fishing for Striper in the sound. Stripe bass fishing has been really good this Fall and should continue through the end of the year.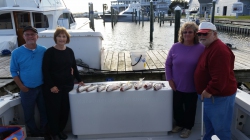 * click on image for larger view

Summer fishing is in full swing - Troy Crane - 06/21/15

We've been blessed with some great conditions and fishing has been great. Plenty around to target on half, three quarter and full day trips.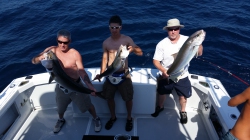 * click on image for larger view

Winter - Troy Crane - 02/21/15

It's been a brutal winter for everyone but at least we are closer to Spring.

We will be heading back to Cabelas in Pennsylvania on February 28 and March 1st for the annual fishing show. If your around the area stop in and say hello. Nothing gets us more excited to start fishing this time of year than to talk about the upcoming season.

We are now taking reservations for the Summer season so dont wait.

Stay warm !



Happy holidays - Troy Crane - 11/28/14

The holiday season is upon us and we are ready for what ever the winter season brings. I am taking reservations for Striper fishing trips and will update as the winter progresses on what is taking place and where we will be located.

Secondly, our passion for waterfowl hunting and the numerous questions I get asked about our hunting has moved me to start offering guided waterfowl hunts in Eastern North Carolina. We will offer several types of hunting with several different guides depending on availability and what you prefer with everything from float rig hunting to stationary blind hunts. The season is off to a really good start, book ahead to gurantee your trip and feel free to call and discuss our fishing and hunting trips.



Great half day fishing today 10-12 - Troy Crane - 10/12/14

Plenty of big Blues around the inlet for our afternoon trip. Sharon and Olivia from Indiana along with Pat from Raleigh joined us and enjoyed some great Fall fishing.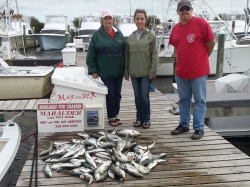 * click on image for larger view

August/September fishing - Troy Crane - 09/05/14

As we move into September, the fishing gets better each day. Our all day deep drop/trolling trips are resulting in great catches of Tile fish and Sea bass along with good catches of Mahi while trolling. Half day trips are producing good catches of nice size Blues and Spanish Mackerel along with some big False Albacore.

Fall fishing is getting into full swing, book your trip now.



8-21 all day trip - Troy Crane - 08/21/14

Headed offshore for some deep water bottom fishing/ trolling today. Beautiful weather and calm ocean. We ended up with a mixed bag, a Black fin tuna, released a Sail fish, a limit of tile fish and a few nice sea bass along with a dozen dolphin. Fall fishing should be great the way things are shaping up.



8-16 Full day trip - Troy Crane - 08/17/14

After two years of being canceled due to bad weather, Pressie and his crew from Maryland finally got a break. The weather was perfect and fishing was great We had some great light tackle Amberjack fishing and caught a limit of Dolphin.



Near shore report before and after hurricane Arthur - Troy Crane - 07/12/14

Good half day fishing for Blues and Spanish along the beaches with schools of Red Drum showing up most days. All day trips have been very productive while live bait fishing and jigging artificial lures around wrecks and other structures for big Amberjack and the occasional Dolphin while trolling. A few cobia around but we look for that to pick up as we go into August. Lets go fishing !